In the spirit of the Twitter Friday Follow, the Book Blogger Hop is a place just for book bloggers and readers to connect and share our love of the written word! This weekly BOOK PARTY is an awesome opportunity for book bloggers to connect with other book lovers, make new friends, support each other, and generally just share our love of books! It will also give blog readers a chance to find other book blogs to read!
I'm going to attempt to visit everyone on the list this weekend (as the weekend is twice its normal size). However I will be going out in the sun shortly after posting this. Never fear, I'll be back once I'm cooked to hop on by.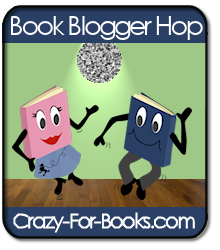 "If you find a book you love, do you hunt down other books by the same author?"
Short answer, yes! This might be a contributing factor to my 400 book high TBR.
I have "hardback authors" which means I'll get the book as soon as it's published in any format, normally hardback even though I don't like reading hardbacks. These include Terry Pratchett, Kelley Armstrong, Karin Slaughter and Charlaine Harris though there have been some that have dropped off the list and others that are jostling the ranks.
Some of my favourite books have been by debut authors…I'm still waiting for some of them to write second novels. I'd be on them in a heartbeat.
I like the comfort of series and knowing characters inside out. Before starting a series I like to have books two and three lined up just in case I get hooked. I suppose now I've got a Kindle I don't have to worry so much as I can get the next one in an instant, but it's become habit.
Sometimes I haven't even read anything by the author before I start hoarding! It will start with a recommendation or I see loads of people reading a certain author on Goodreads. I go look for books, I find several that interest me. I procure these books even though I know perfectly well it could be months, years even, before I get round to them.
Head over to Crazy For Books to join in or just to browse the participating blogs.
Related posts
Popsugar Reading Challenge
34%
Around the Year in 52 Books
35%