AKA Showcase Sunday
The gravitational forces of The Works pulled me inside yesterday. They have lots of new stock and have changed the 3 for £5 offer to 2 for £3! So I carefully selected two books only instead of leaving with armfuls of series I'll never get round to reading… I also spied The Great British Tuck Shop and an audiobook of Grimm Tales. I have been half way through the hardback for months now and I was enjoying it but novels seem to be taking over. I like the idea of them being read to me, so hopefully I'll pick up where I left off and finish aurally.
I don't know why I went into WH Smith…I had been doing the charity shop rounds looking for Point Horror (no luck). Maybe I didn't want it to feel left out. I did a little squee when I saw one of their half price books was The 5th Wave Also picked up Going Vintage and a fab Star Wars activity book (why yes, it is for me and not a small child).
So, the supporting of my local high street done, I also had a few purchases arrive by post. The pesky Book People had free delivery last weekend so bought Scarlet, which I may hold off reading until the final book is out, and A Hunger Like No Other. I keep picking up Kresley Cole books here and there and thought it was about time I got the first book in the series so I can work out if I like them or not. (UPDATE: I went to add this to my TBR on Goodreads and it was already there, so maybe I have 2 copies now…) Everyone seemed to think Angelmaker should have won the Clarke Award this year and it has clockwork bees, so it was about time I got a copy…
Bought:
Angelmaker by Nick Harkaway
Scarlet by Marissa Meyer
A Hunger Like No Other by Kresley Cole
The 5th Wave by Rick Yancey
Going Vintage by Lindsey Leavitt
Sheltering Rain by Jojo Moyes
Trash by Andy Mulligan
Grimm Tales by Philip Pullman (audio)
Art2-D2's Guide to Folding and Doodling
The Great British Tuck Shop
A Clash of Kings by George R.R. Martin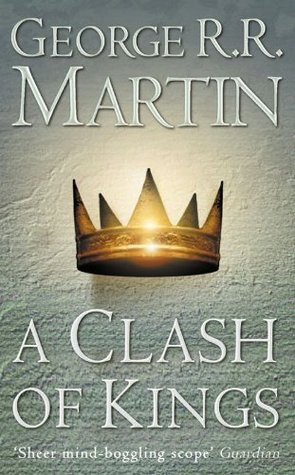 Showcase Sunday is hosted by Books, Biscuits & Tea.
Related posts
Subscribe via Email
Join 439 other subscribers
Popsugar Reading Challenge
95%
Around the Year in 52 Books
87%
BookWyrm
patchworkbunny wants to read "Eight Bears" [...]
patchworkbunny started reading "Midnight" [...]
Temi's degree in neuroscience feeds into this book so much as it explores the implications, good and bad, of a chip in our brains. How it can be used for… [...]
patchworkbunny started reading "Mister Magic" [...]
rated This Delicious Death: 3 stars [...]