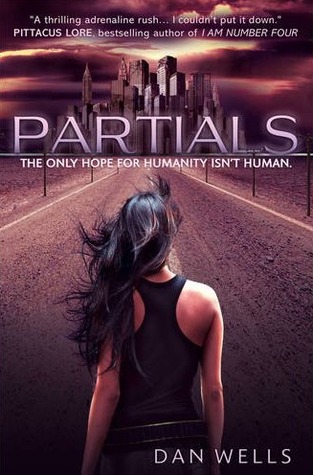 The human race is heading toward extinction. A deadly virus wiped out most the population and now those that survive, live together isolated on Long Island with one main aim; to repopulate. Only no babies live more than a few days. Their immune systems are no match for the virus that is within them all. Kira is an intern at the hospital and can't stand watching the babies die, day after day. The mothers, young women, are legally obliged to get pregnant to do their bit for humanity even if there is no hope. Then Kira comes up with an idea. To catch a Partial and bring it back to study. For these genetically engineered soldiers are the reason they are dying.
Partials is action packed, intelligent and emotional story-telling. It's a dystopian world with strong, well thought out politics. Whilst the enforced pregnancies are horrific to our minds, they make sense in their desperate world. Their location on Long Island makes sense, an easily defended area. There is civil unrest as well as the threat of the Partials, because everyone knows the Partials are the enemy, even if they have never seen one. It is a world in which teenagers will do jobs above their experience, solely because there are so few people left and they must pull their weight.
I also liked that their beliefs weren't necessarily completely overturned. So often it's the clichéd "your world is a lie" approach to dystopian fiction but not here. There are exaggerations and half-truths; and yes, there are things that Kira learns about her view of the world but it isn't overdone. There is a definite ambiguity left at the end.
I do get a little bit bored with excessive descriptions of guns and other weapons. I personally don't think that detail is really needed but it does mark is out as a more action-based story that may appeal to more boys. Overall my only fault was in the action scenes which aren't really my thing and therefore felt a little drawn out in parts. But that's minor and personal, it was mostly an unputdownable read.
Goodreads | Amazon | Waterstones
Related posts
Subscribe via Email
Join 4,565 other subscribers
Popsugar Reading Challenge
31%
Around the Year in 52 Books
15%