A guest post by Lisa @ Over The Effing Rainbow.
This will sound familiar enough to avid readers that it may even seem ordinary, but my earliest and fondest memories of childhood are of going into my local library and just wandering around, from one row of bookshelves to another, usually browsing for something interesting but often, also, just going there for the simple pleasure of being somewhere quiet, and comfortable. For a kid like me, it was better than the world outside, sometimes. And that quiet little world of its (and my) own often led me, by way of the books I picked up, to other worlds that were better than mine. Wilder, more magical, more fantastic. And it started with one book in particular that you might have heard of.
'We're all mad here. I'm mad. You're mad.'
'How do you know I'm mad?' said Alice.
'You must be,' said the Cat, 'or you wouldn't have come here.'
Ever since the first time I fell down that rabbit hole with Alice, I've been a sucker for portal fantasy. My tastes may have broadened as I grew up, but secretly I've always looked at old wardrobes and wondered about the worlds that might lie beyond their doors. I've always watched my feet when walking along woodland paths, though never quite for the reasons most people do. Wonderland was never weird to me. It was always just wonderful. Dangerous to Alice, for sure, but a refuge for me. (The tea party helped. Don't look at me like that; it did.)
My fondness for Alice and her bevy of strange and unusual acquaintances became a fierce sort of kinship with Lyra Belacqua, the heroine of His Dark Materials, who told wild stories of her own and didn't wait around for a rabbit hole to come along underfoot; she sought out her own adventures, fearless and foolish and fighting to be free. No passive acceptance of whatever fate life handed out, for her. It was inspiring, and I fell thoroughly in love with all of it.
Then along came adulthood, and if I'd thought the real world was harsh and hard to bear as a child … well. You know how that one goes, I'm sure. My favourite source of fascination became more of a comfort than ever, even as it became more of a reflection on the world I didn't like to hang out in. What became fantastical wasn't so much magical creatures or wicked queens and the epic quests they were part of; it was the realm of possibility where this world was concerned. I stopped wanting to escape from the real world, and started wanting it to be a better place.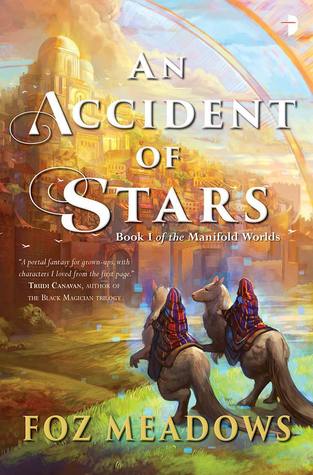 Enter Foz Meadows, and the
Manifold Worlds
duology. These books are openly and unapologetically diverse in their representation; they are political as hell, and they showcase a deeply, richly wonderful world, flaws and all, that's worth fighting for – even when those who stand up to fight have already done so … and lost. I'd never come across a story that takes place after the epic quest has been undertaken, and to read one about the people who continue to fight after they've been beaten was both eye-opening, heartbreaking and yet soul-soothing, in the end. The world – any world – can be a hard place, but that doesn't mean it isn't worth fighting for, or being a part of.
That said, it's always easier to bear up under the pressures of growing up and finding your place in the world when you don't have to do it alone. Society will always be hard on people who don't obviously 'fit in', but when you know that you aren't the only one who doesn't, it can change everything, whether you decide to try to belong or not. Which brings me to the Wayward Children series by Seanan McGuire, because ye gods and little fishes, if any recent works of fantasy speak more clearly and candidly of the hardships faced by young people in a world that doesn't care about them (regardless of which world that might be, and Seanan has come up with a dizzying array of them, I'm sure) than these novellas, I've yet to find them. The setting of the very first book is a boarding school for the wayward children of the series title, the ones who have been to other lands and come back, who weren't able to stay or weren't permitted to, and don't know how to fit back into the world they live in now.
And what kid can't relate to that idea, in some way, shape or form? I was hit hard in the feels when I first read Every Heart A Doorway, let me tell you. We might be "weird", we might be "difficult", we might wish we could live somewhere completely different, but we aren't the only ones.
Stories that show us better worlds than these, and ways to keep improving them? Stories that centre our misfit qualities and say "there's nothing wrong with you" instead of belittling or even demonising us? Stories that tell us we aren't the only ones who struggle to find our feet, that we can do so much more together? Of course I love them. Anyone who doesn't is not to be trusted.
(Especially not if they offer you Turkish Delight.)
---
This is the first in a series of posts exploring the themes from the Science Fiction versus Fantasy Bingo challenge. A huge thanks to Lisa for this heartfelt post and do swing by her blog or follow @EffingRainbow on Twitter. If you'd like to write about one of the other squares, get in touch!
Related posts
Subscribe via Email
Join 4,565 other subscribers
Popsugar Reading Challenge
31%
Around the Year in 52 Books
15%